Bus # 401 - Northern Route - Starts at Downtown Sharon, goes through Sharpsville, ends up at Hermitage's Shenango Valley Mall. Luminator Destination Sign. Oldest bus in the fleet.
The OLD #402 - Retired three weeks ago - CENTRAL ROUTE Bus travels Straight down Business US-62/East State Street, from Downtown Sharon to Hermitage Shenango Valley Mall, one trip via Sharon High School coming from the mall. Luminator Destination Sign.
Bus #403 - Southern Route - Downtown Sharon to Farrell & Wheatland, towards Hermitage on East State Street, to Shenango Valley Mall. Twinvision Destination Sign.
Back-up bus. No number assigned to this bus, the driver that uses this bus usually, when they have to answer the radio, name the bus number they usually drive as there is only one bus per route. For example, 401 is the North, 402 is Central, and 403 is Southern. If the regular bus is out of service for maintenance or another reason, and this bus is used, the B/O still calls the radio with their normal bus number. In the case of the picture below, the bus # for the day is 402 since 402 (at the time this picture was taken) was out of service due to age. The only 40 footer they have. All the others are 35' buses. Luminator Destination Sign. This was actually an old AVIS bus from the Pittsburgh International Airport.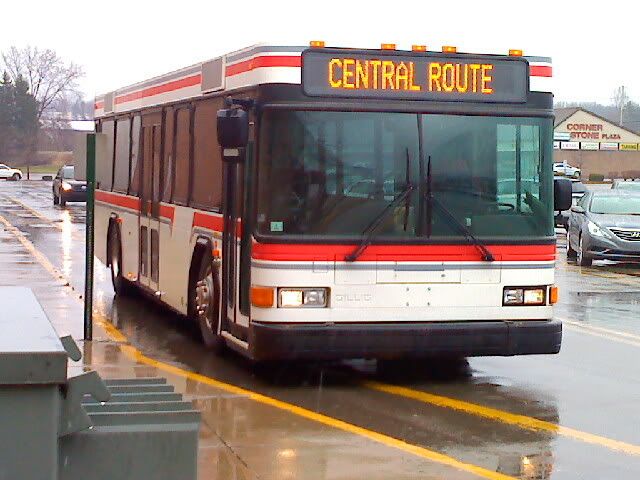 This is the new #402, arriving a few weeks ago. Twinvision Destination Sign on this bus.