Attention: In order to reply to messages, create topics, have access to other features of the community you must sign up for an account.
Grand Influences: Architectural Brewster Tour
Event details
GRAND INFLUENCES: ARCHITECTURAL BREWSTER STATION TOUR
SUNDAY, SEPTEMBER 15, 11AM-4PM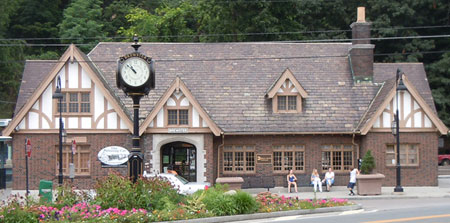 Come celebrate the 100th birthday of Grand Central Terminal with the Metro-North Railroad Commuter Council (MNRCC) at the Village of Brewster's Founders Day! The Council is proud to highlight Grand Central's influences throughout the Metro-North system and the historic Brewster station on the Harlem Line is a perfect example of how the railroad can help establish a community.
This year the annual Founder's Day will be bigger and better than ever! When you arrive the Council will greet you at the station where you can build a model train or train station with your children, and enter a free drawing for chance to win a trip to Grand Central Terminal with lunch at the world-famous Junior's Restaurant located in the Terminal and passes for the Official Grand Central Audio tour, a family level membership to the New York Transit Museum, a beautiful poster of the original architectural drawing of Grand Central Terminal, and more!
During the festivities the Metro-North Railroad Commuter Council will host two different presentations by the Putnam County Historian who will address the historical significance of Brewster Station and the impact of Metro-North Railroad. One talk will be held at the Southeast Museum (where there is a wonderful railroad exhibit entitled "The Grand Central Terminal Exchange") and the other will be at the Walter Brewster House.
Founder's Day crowds will be entertained by local bands and performers as they peruse the vendor tents that line Main Street. Attendees can check out classic cars, enjoy a variety of food from local restaurants, find a bargain at the book sale, and buy art from local artists. There is no admission fee and there are plenty of attractions for the entire family. It will be a day of history and fun!
For more information on the Metro North Railroad Commuter Council visit: mnrcc.org. For more information on Brewster's Founder's Day visit:brewsterfoundersday.com
Schedule of Activities at Founder's Day
All Day: Information and children's activity tables open in the station
12 Noon: Historic Talk, meet at the Southeast Museum, 67 Main Street
2 PM: Historic Talk, meet at the Walter Brewster House, 43 Oak Street
3 PM: Drawing for family daytrip (You do not have to be present to win.)